Children and Baby's Headstones
We take exceptional care, sensitivity and compassion when creating our headstone memorials for children and babies. We are here to support you in creating an everlasting memory to celebrate their life.
A wide selection of personalised children's headstone memorials
Third-generation family-run monumental masons
Over 30 years of experience
Outstanding Craftsmanship
A thoughtful, supportive and comprehensive service
A headstone memorial is a timeless monument and a commemoration of a person's life, and we understand the significance of choosing such a personalised symbol to reflect your loved one.
Our Children and Baby Memorial Designs
Below is a sample of our children's headstone memorial designs that we have created for loved ones. These draw upon the exceptional care and attention to detail of our memorial specialists through to our skilled craftsmen. The headstone monuments you see here are only a small collection of the many memorial designs, sizes and shapes that we can create for your children's memorial.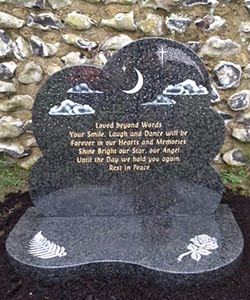 Dark Grey Granite Memorial
Cloud Shaped Memorial in Dark Grey Granite with Moon and Stars ornamentation.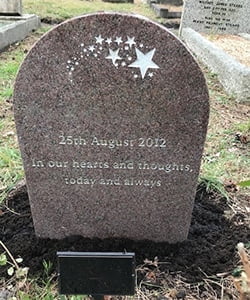 Paradiso Granite Memorial
Paradiso Granite Roundtop Monolith with Stars ornamentation
Whether in person, on the phone or via email, our team of memorial specialists take care and precision over every little detail of your personalised children's memorial. We are here to help you create a unique and treasured tribute to mark their life.
Including a collection of sentimental and thoughtful designs, you can fully personalise the shape, size and style of your children's headstone memorial with characters, photos, lettering and personal inscriptions.
We understand that the process and choice may be overwhelming and that you may wish to select your memorial at your own pace. Our team of kind, friendly and helpful specialists will carefully walk you through the process of selecting a meaningful headstone at a time that is comfortable for you.
Why choose Haven Memorials for your Child's Memorial?
Using our 30 years of experience, we support our local communities by creating fitting tributes for their loved ones. Our third-generation family-run monumental masons is here to guide and help you through this difficult time. We are built on the principles of care, trust and support.
At Haven Memorials, we adopt an artisan approach to crafting memorials. Our team of specialists takes great care, attention and pride over their skill and craft, using the finest quality and hand-sourced materials from around the world and traditional techniques to produce exquisite memorials.
Third-generation family-run monumental masons
Over three decades of experience
Outstanding craftsmanship
A wide selection of personal children's headstone memorials
Traditional techniques and hand-sourced materials
A thoughtful, supportive and comprehensive service
When creating your personalised memorial, it is important to us that we provide as much choice as possible to enable you to design a touching and fitting tribute to your loved one. We also offer a complimentary bespoke design service so you can create your own one-of-a-kind monument to celebrate your child's life.
We can produce headstones in the shape of teddy bears, football shirts, cartoon characters or toys. It is also possible to have your child's favourite cartoon character or a photo of them etched onto the memorial, as well as personalising your headstone with colourful lettering. Kerb sets and colourful chippings can also help to provide room for vases and other ornamentation to further personalise a loved one's resting place.
Address
Haven Memorials     
Grove Farm
The Street
Crookham Village
Fleet
GU51 5RX