Headstone Restoration, Cleaning and Renovation
Haven Memorials has been cleaning, repairing and restoring memorials since it was founded in 1987 as a third-generation family-run monumental masons. We take great pleasure and care in returning your loved one's memorials to a pristine condition that you are proud of.
Over 30 years of experience
Aftercare services to look after your memorials for years to come
A thoughtful, supportive and comprehensive service
Provides services across the South East of the UK
Enquire about Memorial Cleaning and Renovation
Memorial and Headstone Repair and Restoration
We provide an exceptional memorial restoration service that ensures your personal symbol of remembrance retains its level of excellence and high quality for years to come. 
Haven Memorials can conduct a large variety of memorial restoration services to bring your memorial back to its original state. Our restoration service includes:
Replacing foundations
Fixing broken gravestones and memorials
Re-levelling memorials which are leaning
Repainting, repairing or restoring lettering from inscriptions
Replenishing chippings on traditional graves
Repointing cement joints
Refacing memorials
Removing memorials for funerals
Disposing of memorials
Adding inscriptions to closely reflect the memorial's existing design
Memorial before and after restoration
Get in touch with our specialist memorials team to discuss the repair, restoration and renovation of your loved one's memorial.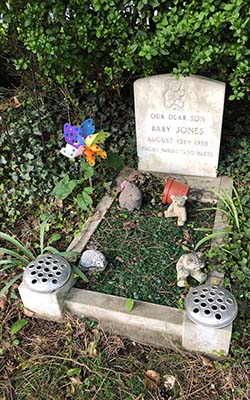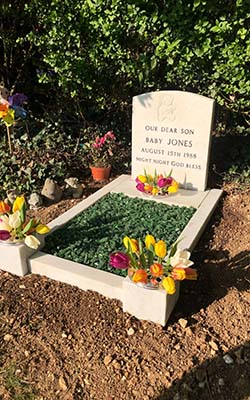 Memorial and Headstone Cleaning Service
Memorials, particularly in Purbeck stone, Portland stone and marble, are permeable and so may deteriorate over time. Cleaning your loved one's personal memorial can help bring its appearance close to how it first looked when fitted and fixed. For a more extensive maintenance service, see our memorial repair and restoration service below.
Memorial before and after cleaning
Contact our team to discuss the cleaning and maintenance of your loved one's memorial.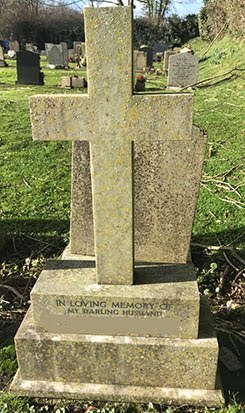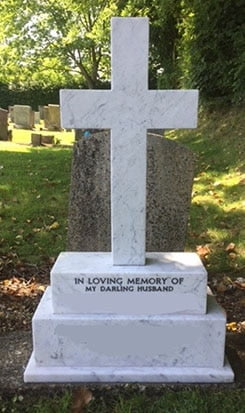 Our third-generation family-run monumental masonry company has been serving local communities across the South and South East for over three decades.
Creating a personal memorial to perfectly commemorate your loved one and celebrate their life can be a daunting and difficult time. We therefore value integrity, compassion and quality above all else. We provide a comprehensive customer service with care and support that is both simple and considerate. At Haven Memorials, we want to make every person feel supported when they call, email or walk through our doors.
Third-generation family-run monumental masons
Over three decades of experience
Outstanding craftsmanship
An extensive collection of memorials
Traditional techniques and hand-sourced materials
Address
Haven Memorials     
Grove Farm
The Street
Crookham Village
Fleet
GU51 5RX