We are a third-generation family-run monumental masonry company which has been serving our local communities for over three decades.
Creating a personal memorial to perfectly commemorate your loved one and celebrate their life can be a daunting and difficult time. We therefore value integrity, compassion and quality above all else. We provide a comprehensive customer service with care and support that is both simple and considerate.
At Haven Memorials, we want to make every person feel supported when they call, email or walk through our doors. Visiting our showroom, you can view our selection of materials and memorials first-hand. You can also receive a one-on-one consultation from a member of our experienced and supportive memorial specialists to help you choose your memorial and answer any questions you may have.
We understand the value of having a supportive memorials specialist to assist you with the process and answer any questions you have. Our team is experienced in and dedicated to organising the perfect memorial for your loved one. We are here to support you every step of the way, providing comprehensive information and advice on the journey your memorial will take, from the quarry to the cemetery.
Our memorial specialists are here to guide you throughout the entire process. We can apply to the relevant local council for the necessary permit applications on your behalf, so you don't have to worry about onerous administration or contacting multiple sources to arrange your loved one's memorial.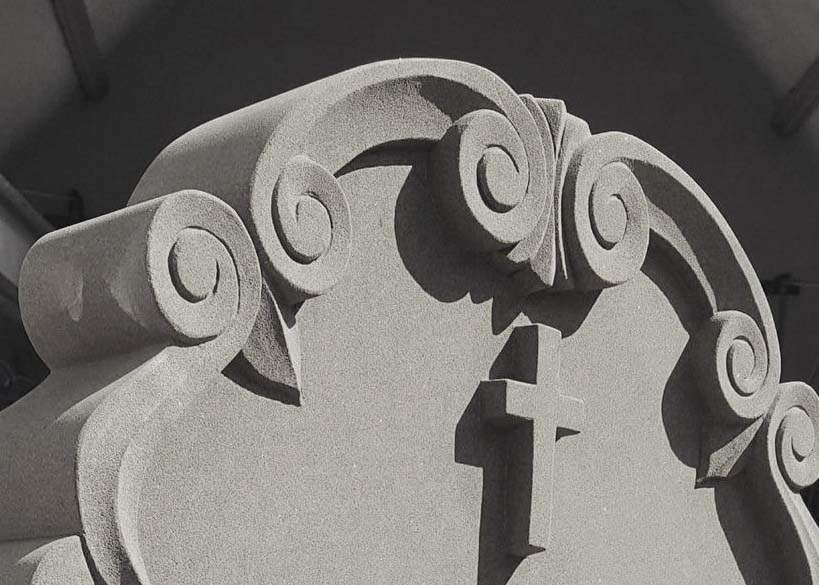 Specialist Stonemasons
Applying our master craftsmanship, we specialise in producing bespoke and personal memorials to reflect your specific requirements and celebrate the life of your loved one.
We adopt the time-honoured tradition of using exquisite and long-standing stone masonry techniques to craft each and every memorial. We select the finest quality materials from around the globe, finishing all of our memorials by hand and personally fixing every memorial in place to ensure the highest quality.
Our master stonemasons can create traditional headstones, kerbed designs for larger memorials, cremation memorials as well as children's headstones that can be personalised with a favourite character or design.
You can choose from a selection of texts, introductions, inscription formats and languages, as well as lettering styles and finishes.
Memorials that celebrate the lives of those people most special to us deserve to be treated with care.
We offer memorial cleaning and renovation, a biannual maintenance service and memorial insurance to ensure your memorial retains its elegance and quality to respectfully honour the memory of your loved one.
You can choose from a range of beautiful and sentimental additions to personalise your loved one's memorial.
We offer carved ornaments and etchings as well as photo plaques and vases to complement your personal memorial. We also have chipping infills in stone and glass that come in a variety of colours.
Our showrooms
Haven Memorials has showrooms in London and across the South of England, providing a comprehensive, consistent and compassionate service to the local communities we support.
We have showrooms in:
Fleet, Hampshire
Basingstoke, Hampshire
Wimborne Minster, Dorset
Bognor Regis, West Sussex
Acton, London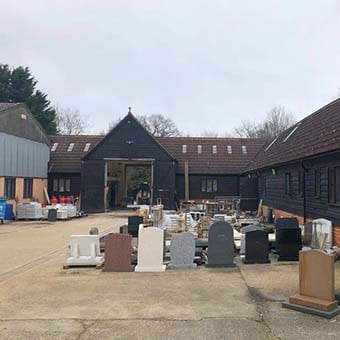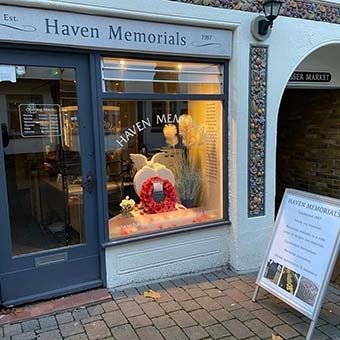 We are proud to have been supporting our local communities from our showrooms and modern stone masonry workshop for over three decades. During this time, we have been honoured to provide a caring, compassionate and comprehensive service to those who are looking to provide an everlasting commemoration of their loved one.
Here is what just a few of those people have kindly said about the service they have received from our specialist team at Haven Memorials.
"Tara at the Fleet showroom has been very helpful and shown just the right amount of empathy. The memorial Stone looked great and I am very pleased with it. Thank you Tara and the team at Haven Memorials."
.
Mrs P
"Really excellent service from Tara and the team. She spent a lot of time helping us choose the correct type of stone/lettering etc, was really professional and sympathetic at the same time. Once we had chosen the Memorial Stone she kept us closely informed with how work was progressing until the final email confirming completion of the job, with an attached photo that arrived today. Thank you Tara."
.
Mr A
"We have no hesitation in recommending Haven Memorials. We approached them to produce a headstone for our Mum, and we found the staff to be extremely friendly, sensitive and professional. We wanted the headstone to include our family crest, but we knew that we were setting Andy a difficult task as the quality of the images we provided was poor. However, the final artwork that Andy produced was excellent, the engraving with gilding and colour exceeded our expectations, and we are extremely pleased with the final result."
.
Mr P
Address
Haven Memorials     
Grove Farm
The Street
Crookham Village
Fleet
GU51 5RX